UBCD Live *BETA*
Current release: 0.2.3b
UBCD Live is a Debian Linux based LiveCD that was created as a candidate that will eventually replace Parted Magic (within UBCD). Its creation was mostly a result of this forum thread where we discussed what should replace Parted Magic after its author decided to put up a paywall around it.
The eventual Parted Magic replacement should have a few desirable characteristics. 1) It should support existing PM/UBCD modules. 2) It should be easy to customize. 3) It should have similar or lower system/memory requirements as Parted Magic. 4) It should have a user-friendly GUI.
UBCD Live is currently just a proposed candidate for replaceing Parted Magic with UBCD. There is no deadline for the replacement, and it is entirely possible that a better alternative comes along, in which case we will happily embrace that instead. However, after limited alpha testing by a small group of people, I feel it will help the project mature faster if we can get more people to test it and provide feedback.
UBCD Live can be written to a USB memory stick using either Universal USB Installer or LinuxLive USB Creator. Changes can be persisted to the USB memory stick by following the instructions here.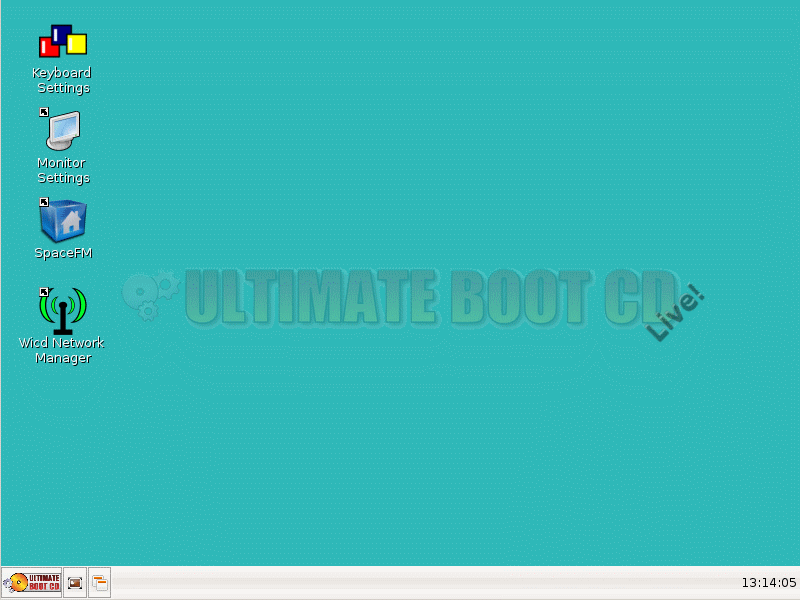 Tools currently included within UBCD Live are:
Name of Tool
Version
General
LeafPad Text Editor
0.8.18.1-4
LXTerminal
0.2.0-1
Netsurf Web Browser
3.2+dfsg-2
SpaceFM File Manager
0.9.4-2
Xpdf PDF Viewer
3.03-17+b1
Rescue
Clamtk Antivirus Scanner
5.11-1
Clonezilla Disk Imaging
3.10.11-1
PC CMOS Cleaner
2.0
PC Disk Eraser
5.0
PC Registry Editor
1.0
PhotoRec File Data Recovery
7.0
TestDisk Partition Recovery
7.0
WHDD HDD Diagnostic/Data Recovery
2.1
XFPROT Antivirus Scanner
2.4expl6
System
Fskbsetting Keyboard Setiings
0.3.2
GNOME Disks
3.12.1-1+b1
GParted Partition Editor
0.19.0-2
GSmartControl HDD Health Inspection
0.8.7-1.1
HardInfo System Information
0.5.1-1.4
LXRandR Video Resolution Changer
0.3.0-1
System Stability Tester
1.5.1
Truecrypt Disk Encryption
7.1a
Wicd Network Manager
1.7.2.4-4.1
Others
chntpw
1.0-1+b1
ddrescue
1.19-1
ddrutility
2.5
msed
0.22beta
gdisk/cgdisk/sgdisk/fixparts
0.8.10-2
File Details
Download format
Size
Checksums

ISO image

468MB
[MD5 ] 27b85e4c62e7c269ddc879cbc805a9df
[SHA1 ] 6aae66463504127a2f2216ce3f5d815bd8e6481b
[SHA-256] bd325ddddf8a678d7b84c6258198df6bdabade02ac012a6caa2b789a3b00baad
P2P
Details
Version

ISO

This is a torrent file to be plugged into BitTorrent-enabled browsers such as Opera or BitTorrent download managers such as uTorrent.

Alternatively, you can use this magnet link:

magnet:?xt=urn:btih:4ABBE8B86C2D1194EB139DB03DB321FB530B9E2B

without downloading the torrent file. If you are using uTorrent, select File, Add Torrent from URL... and enter the magnet link.

0.2.3b
HTTP
| | | | |
| --- | --- | --- | --- |
| | Sponsor | Version | Status |
| ISO | | 5.3.9 | |
| ISO | | 5.3.9 | |
| ISO | | 5.3.9 | |
| | | 5.3.9 | |